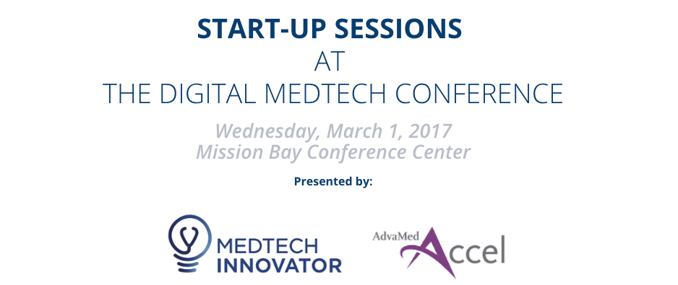 On Wednesday, March 1st, 2017, we will be kicking off The Digital MedTech Conference with the MedTech Innovator Start-Up Sessions at the Mission Bay Conference Center.
About the Start-Up Session
We will be heavily focusing on technological breakthroughs within medtech. Those in attendance will get to see eight medtech start-ups present their ideas to investors, corporate ventures, and crossover venture capital firms. This session is a great opportunity to improve networking and development amongst peers.
The session will include multiple workshops on digital software regulations, digital health pilot preparation, digital health business models, and more. Previous MedTech Innovator winners will also feature their case studies.
Eight companies will compete and participate at the MedTech Innovator competition. The companies have an opportunity to move on to the MedTech Innovator Showcase at AdvaMed's September conference, where the final competition will take place. The winning company in the final competition can be awarded over $500,000.
Attend the Start-Up Sessions at The Digital MedTech Conference on Wednesday, March 1 (the day before The Digital MedTech Conference). To register for the event ($100 standalone, $50 add-on to The Digital MedTech Conference registration), click here.