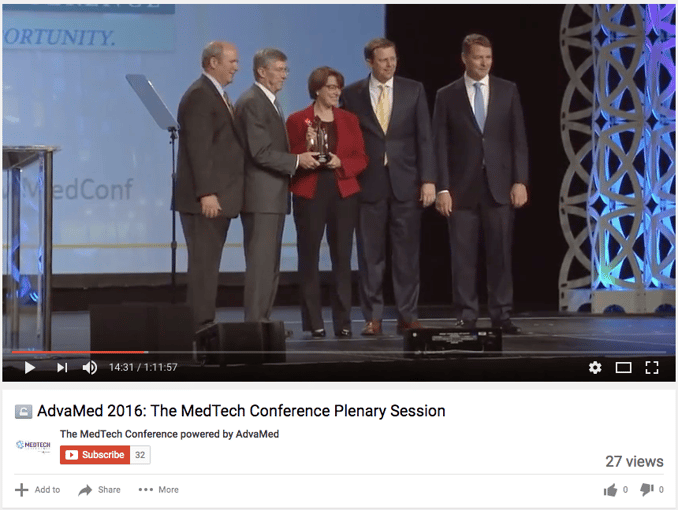 Did you miss out on previous conferences, or want a sneak peek at what you can expect from The MedTech Conference this year? Get an inside look at previous conference plenary sessions by accessing the Plenary Session Video Library. This database holds 10+ videos, over 450 minutes of key findings, and contains footage of over 30 industry experts.
Here's the full list of sessions included in the library:
AdvaMed 2016: MedTech Innovator Finals
AdvaMed 2016: The MedTech Conference Plenary Session
AdvaMed 2016 Plenary session: Mr. KT Rama Rao
AdvaMed 2014: Remarks by former Secretary of State Hillary Rodham Clinton
AdvaMed 2014: The Payer and Provider Perspective
AdvaMed 2014: The Policymaker's Perspective from City Hall to Capitol Hill
AdvaMed 2014: An In Depth Interview with FDA Commissioner Margaret A Hamburg
AdvaMed 2014: CDRH Town Hall
AdvaMed 2014: Medtronic Co-Founder Earl Bakken Receives AdvaMed Lifetime Achievement Award
AdvaMed 2013: John Brown of Stryker Receives AdvaMed Lifetime Achievement Award
Highlights included in the plenary session video library are: Chicago Mayor Rahm Emanuel and Illinois congressman (R-IL, 6th District) Peter Roskam tabling their perspectives of The Affordable Care Act; The Payer and Provider Perspective panel discussing their proposed solutions to resolve healthcare debt; and Former Secretary of State Hillary Rodham Clinton reflecting on how The Affordable Care Act will impact medical technology.
Looking Ahead to The 2017 MedTech Conference
The 2017 MedTech Conference is quickly approaching. Every year, our dynamic panel of plenary speakers deliver informative and engaging discussions. This year, we expect our programming to center on global health, digital health, business development & investment, among other key medical technology topics.

Secure your spot to The MedTech Conference today. Early bird full-access registration rates are as low as $995, and you can save up to $600 by registering before July 7.