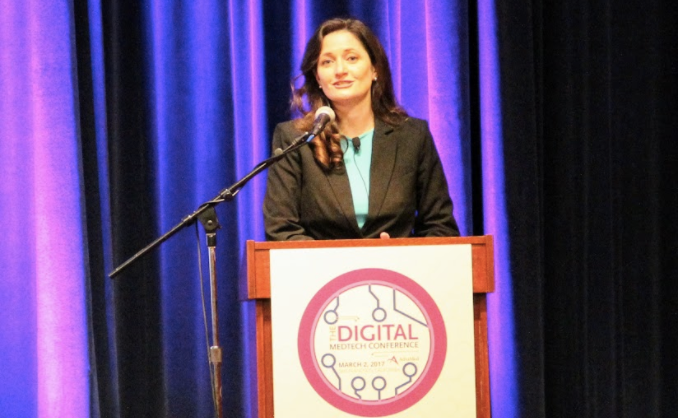 After throwing back a couple cups of coffee and some delicious pastries, our day started off with a powerful keynote address from Jessica Mega, MD, MPH, Chief Medical Officer at Verily Life Sciences (the health care arm of Google/Alphabet).
Dr. Mega gave an overview of the industry that included many recurring themes we heard about throughout the day. According to Dr. Mega, digital health can be broken down into three steps:
COLLECT
As digital health becomes more and more ubiquitous, it's imperative to not only gather as much information from digital devices as we can, but also to look at how we can begin to instrument everyday tools consumers use (like a spoon) in digital health.
ORGANIZE
Throughout the last seven years, we've seen a significant digital transformation: in 2010, big data simply meant where data was held. By 2020, we should expect big data to mean something very different, as data will be stored in the cloud and we will be leveraging it to work more collaboratively.
In taking this new approach to big data, we can leverage deep learning by taking findings and translating them into an effective, data-driven product.
ACTIVATE
The burning question all digital health companies want to answer: How can we get technologies into the hands of the people who are going to use them every day?
According to Dr. Mega, to do so, we must design with the individual in mind. Organizations should never forget to consider the user in the user journey - something that can often get overlooked without realizing. By following the four step process of plan, design, develop, and activate, products are more likely to delight the user and bring value to them.
Dr. Mega wrapped up her presentation by reminding attendees why they do what they do: technology + health care = healthier lives.
---
Read on to continue The Digital MedTech Conference Recap:
Next: When is the future of health care? Now.
Previous: The Digital MedTech Conference recap