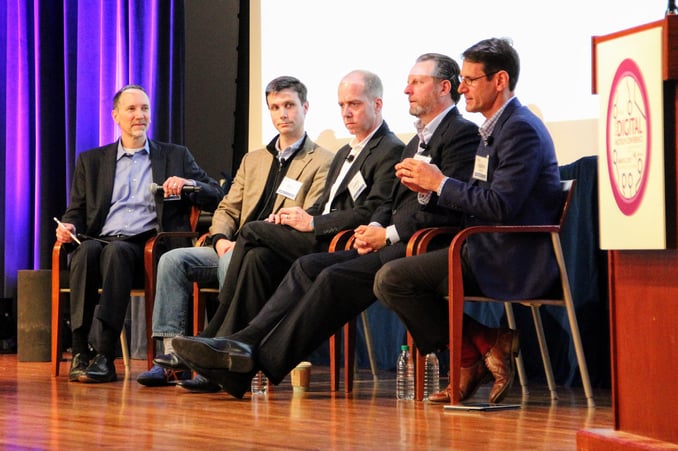 Our first panel session of the day, Disruption and Opportunity: The Future of Health Care is Now, explored how key challenges and trends in health care delivery are creating market opportunities for digital technologies and applications.
The panel featured:
According to the panel, the digital health industry has a data problem: organizations are collecting so much data that it's overwhelming. Finding a storage solution harmonizes and synergizes the data that is being collected to virtualize high quality patient care.
Panelists also explored the ecosystem of the industry; they expressed that a lack of predictability for the digital health industry dried up its ecosystem. Rooted in unclear FDA procedures for digital health devices and the device tax, investors took a step back from investing in digital health companies, citing too much risk.
That being said, the panelists all agree that the industry's ecosystem is in an exciting time: we are better understanding the balance of evolution and patient safety, and things that were once seen as barriers are now being seen as differentiators. As new digital health standards are developed, the panel expressed that they'll likely have to be government-driven to be effective, and will need to be driven by heavy collaboration and cooperation of digital health companies.
One point that panelists touched on (which we saw throughout the day) was the question of consumer behavior and digital health's ability to change it. The consensus of this panel was that without changing consumer behavior, you'll never be able to impact quality or cost as much as you'd like. Data insights can be used to inform your decisions, but without understanding how your consumer behaves, or how you can change their behavior, you'll have a hard time finding success.
---
Read on to continue The Digital MedTech Conference Recap:
Next: How does FDA plan to address the digital health industry?
Previous: Kicking off the day with a keynote