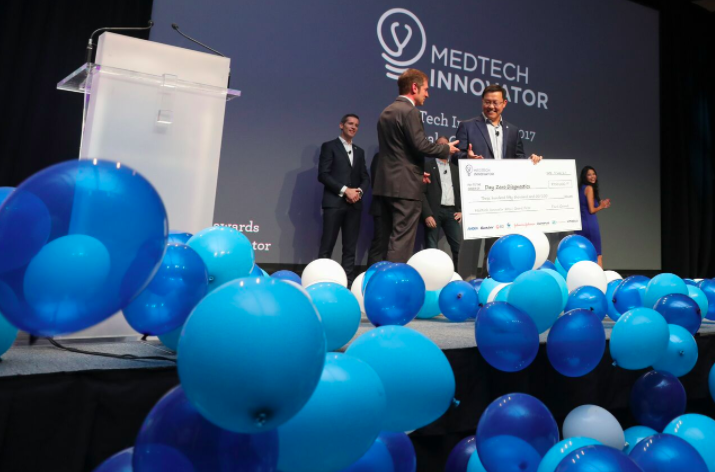 MedTech Innovator, the industry's nonprofit global competition and accelerator, announced their call for startup and emerging-growth companies to apply to its 2018 competition by the Jan. 26, 2018, deadline. MedTech Innovator will award more than $500,000 in cash prizes and scholarships during the competition.
MedTech Innovator received nearly 600 completed applications for its 2017 competition cycle. Our audience of industry leaders at The MedTech Conference selected Day Zero Diagnostics as the 2017 grand-prize winner during our Tuesday afternoon plenary session. MedTech Innovator expects a record-breaking number of applications for its program in 2018.
Applications are reviewed by more than 150 executives and professionals from dozens of leading companies, including manufacturers, providers, and investors such as Johnson & Johnson, RCT Ventures, Baxter, BD, BTG, Olympus, Amgen, Ximedica, Alira Health, and Silicon Valley Bank. MedTech Innovator does not charge a fee to apply or to pitch and does not require equity from participating companies.
The top applicants will be invited to present at one of MedTech Innovator's regional pitch events in the United States, Europe, Canada, and Israel throughout March and April 2018.
The MedTech Innovator Showcase and MedTech Innovator competition finals are held at The MedTech Conference powered by AdvaMed. Four finalists are selected to compete on the plenary stage, and the audience votes in real time for the MedTech Innovator 2018 grand-prize winner.
To learn more about MedTech Innovator and the $500k competition and accelerator, visit the MedTech Innovator website.