For the past several years, policymakers and industry have been exploring ways to improve the quality of health care furnished to individuals while promoting efficiency and value. As I have discussed in the past, I believe that medical technology companies can be a key player in these coordinated care efforts in light of their specialized clinical knowledge, economic expertise, data analytics proficiency, and supply chain management capability. Unfortunately, various regulatory roadblocks stand in the way of the medtech industry's full participation in the shift to more coordinated care.
That is why I am so pleased to have been invited to represent the Advanced Medical Technology Association (AdvaMed) at a June 7, 2018 Department of Health and Human Services (HHS) "Regulatory Reform Listening Session" on "Barriers to Coordinated Care." This session, called by Deputy Secretary Eric Hargan, is designed to allow HHS leadership to hear the perspectives of impacted stakeholders as the Department examines its regulatory reform agenda.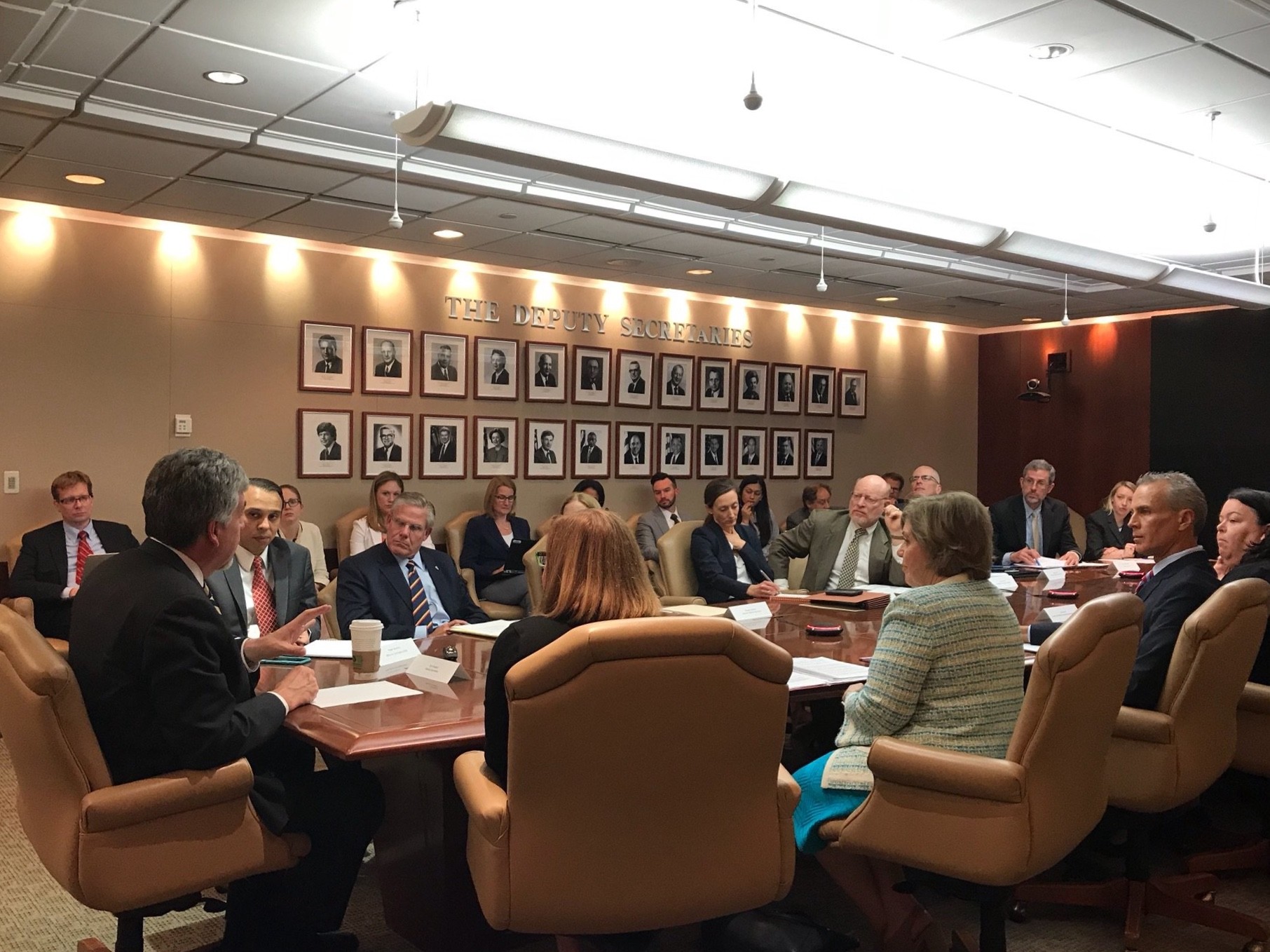 My key message for HHS is that medtech companies can be a full partner in efforts to facilitate coordinated care, but the federal anti-kickback statute (AKS) and its narrow and outdated regulatory safe harbors are inhibiting meaningful engagement by medtech companies. I offer more details on my message below.
Medtech Companies Offer Solutions
AdvaMed's medtech company members no longer just produce devices; rather, they produce solutions. That is, our innovative companies offer combinations of technology and services to deliver targeted outcomes. This gives us the capacity to partner with providers in detecting, treating, and managing disease – and to be able to share accountability for both achieving better outcomes and managing costs.
Anachronistic Policies Discourage Health Innovation
In many cases, the health management solutions offered by medtech companies do not fit squarely within one of the existing regulatory safe harbors to the AKS, which were developed in contemplation of a fee-for-service and fee-for-product (volume-based) model rather than a coordinated care paradigm. For example, the discounts safe harbor contains provisions that could be interpreted as excluding from protection various value-based pricing arrangement discounts involving bundles of items and services. Other coordinated-care/value-based arrangements that may not be fully protected under the AKS include some rebates based on clinical/economic outcomes, payment for corrective services if targeted clinical outcomes are not achieved, and the provision of services under risk-based compensation models.
Proposed Value-Based Safe Harbors
To encourage coordinated care, AdvaMed has submitted to the HHS Office of the Inspector General proposals for two new value-based safe harbors to the federal Anti-Kickback Statute that would enable meaningful participation in outcomes-based arrangements with appropriate safeguards. First, the proposed Value-Based Pricing Arrangements Safe Harbor would allow for price adjustments based on whether specified clinical or cost outcome targets were achieved.
Second, the proposed Value-Based Warranties Safe Harbor would allow manufacturers to make certain clinical and/or outcome assurances and provide an appropriate remedy if such outcomes are not achieved. In other words, the outcome warranty would allow a manufacturer to share risk by providing a payment, item, or service when a targeted clinical or economic outcome is not realized.
Truly achieving coordinated care and value-based medicine will take the contributions of all segments of the health industry, including medtech companies. To that end, my number one request of HHS is to prioritize OIG's development of value-based safe harbors, with allocating of the resources necessary for OIG to accomplish this.
I look forward to filling you in on my lessons learned from the listening session.
Learn more about AdvaMed's proposals to advance value-based health care.