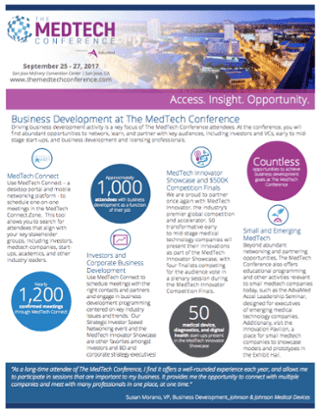 Between happy hours, events, meetings, LinkedIn messages, Twitter DMs and so much more, the number of opportunities for professional networking can be overwhelming and downright unruly.
One thing that we've heard over and over again from The MedTech Conference attendees is that they love the opportunity to consolidate months worth of travel, meetings and logistical coordination into just three days of networking and business development activities.
More than one third, or around 1,000, of last year's conference attendees participate in business development activities as part of their job. Through our partnering system MedTech Connect, attendees connected and scheduled more than 1,200 meetings - growing new ventures, securing new partners and everything in between.
Want more information about all of the opportunities at the MedTech Conference so you can accomplish your business development goals while you're in San Jose? Our Business Development Overview contains a breakdown of everything you need to know to have the best conference experience possible, including:
A look at the MedTech Connect partnering system

Investor and corporate experiences for business development

MedTech Innovator Showcase and $500k Competition Finals

Unique opportunities for start-up medtech companies

Comprehensive business development case study
Any questions? Feel free to leave a comment!