Updated June 29, 2017: Did you miss the chat referenced below? Check out our summary/recap here: #MedTechInnovator Twitter Chat: June 27, 2017.
One of the things we love is using the conference as a connector - when we see people meeting new prospective partners, investors, employers and more, that's what tells us everything we do all year round is worth it! But, The MedTech Conference is only three days long, and there's much more we can do year-round to drive connections throughout the medical technology ecosystem.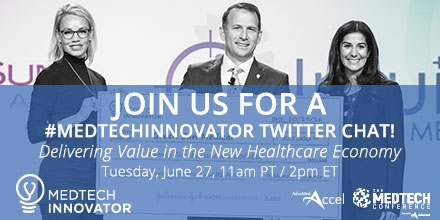 One way we've loved to connect over the past few years is through our #MedTechInnovator Twitter Chat series held in collaboration with AdvaMed Accel (@AdvaMedUpdate on Twitter) and, of course, MedTech Innovator (@MedTechAwards on Twitter). Our first chat of the season is coming up next week -- here's what you need to know:
When: Tuesday, June 27 at 11am PT / 2pm ET
Topic: Delivering Value in the New Healthcare Economy
How to Join: Log on to Twitter, follow the #MedTechInnovator hashtag, be sure to click "latest" along the top so you see all of the conversation!
The conversation will be directed specifically at start-ups and early stage companies, but all are invited to join in!
Stay tuned for more details on our upcoming Twitter chats, and if you want a better idea of what to expect, take a look at some of our previous chats: