MedTech Connect, our partnering system available to all full-access registrants of The MedTech Conference, is live -- and we want to make sure you know how to use it to optimize your experience! If you need a refresher on MedTech Connect, check out our previous blog post: The 101 on MedTech Connect.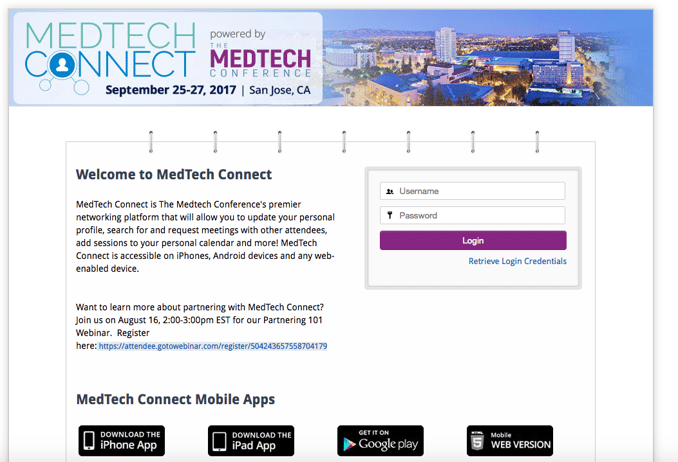 One-on-one partnering meetings at The MedTech Conference take place in the MedTech Connect Zone within our Exhibit Hall. The MedTech Connect Zone is open from 9am to 5:15pm on Tuesday, September 26, and from 8am to 12:30pm on Wednesday, September 27. When you book a meeting, you can base it off of the mutual availablity of the participants as well as the availablity of partnering suites.
Here are some tips to help ensure a successful partnering experience:
Make sure your profile is 100% complete. You can populate your profile by pulling information from a past event or syncing to your LinkedIn page.
Personalize every meeting request – write descriptive subject lines and don't be vague in the body of your request. Let attendees you're requesting meetings with know what you have to offer.
Designate the times attendees can book meetings with you and mark yourself unavailable to avoid receiving requests during times you know you'll be unable to accept
Search for attendees you'll want to meet with using the system's intuitive filtering tools. Search by job title, function, sector and more.
Keep your leads all in one place by adding potential partners to your favorites.
Stay organized on site by adding the sessions you want to attend to your personal agenda, a feature that keeps all of your confirmed meetings and sessions in one place.
Respond to all meeting requests, including declining users that you do not wish to meet with.
Turn connections into true partnerships by following up long after the conference has ended using the Message tool.
Want to dive in even further? We held a webinar on August 16 to dive into specifics. Tune in below or click here for detailed explanations from our team:
Why Partner with MedTech Connect? Chris Yochim, Strategic Advisor, HOYA
About The MedTech Conference - Beth Perkins, Director of Business Development and Investor Relations, The MedTech Conference
MedTech Connect Demo – Dave Bialkowski, Executive Vice President, JUJAMA, Inc.
MedTech Connect Zone & Partnering Hours - Kim Pittinger, Program Coordinator, The MedTech Conference
Tips for Successful Partnering – Kim Pittinger, Program Coordinator, The MedTech Conference