The MedTech Conference is fast approaching, with less than three months until we gather in San Jose for the largest annual gathering of medical technology professionals in North America. We're well into planning the event, and our Program Preview is now available for download!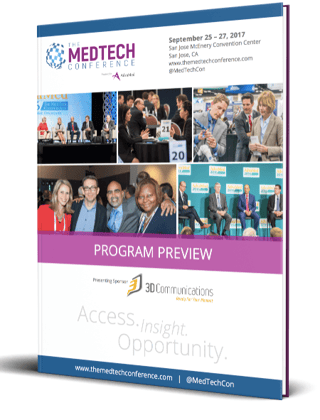 Whether you're deciding whether to attend The MedTech Conference this year, registering and making travel arrangements, or planning out your itinerary for San Jose, the Program Preview is a comprehensive resource for information about the conference. You can find details including:
The latest agenda (as of May 24, 2017)

This year's plenary session themes (Stay tuned for more details on specific sessions and speakers!)

Descriptions of 30+ panel sessions and CEOs Unplugged sessions

Details about the Exhibit Hall and a list of exhibitors (as of May 23, 2017)

Registration, hotel and flight information
With returning programming such as the popular CEOs Unplugged series and the MedTech Innovator competition finals, it is sure to be an exciting week in San Jose. We'll also have new special programming, such as the Innovations in Global Health Program aimed at exploring ways to improve the health and welfare of patient populations in the developing world, and ample business development opportunities for companies and organizations of all sizes.
We can't wait to see you in San Jose! Register today to take advantage of the early bird rate (which closes on July 7), and check out our Program Preview for details on special airfare and rental car discounts.